Our Manufacturing Plants
Atsugi Plant's Aluminum Alloy Heat Treatment Line / Bright Heat Treatment Line
Available Services
Solution heat treatment quenching and processing
treatment and processing
Softening treatment and processing
Vacuum and Bright Treatments
Magnetic treatment and processing
Full annealing and processing / Stress-relief annealing and processing
heat treatment and quenching / hardening treatment and processing of stainless steel
Quenching and tempering processing of die steel and high-speed tool steel
Deposition hardening treatment and processing
Heat treatment and processing of aluminum, titanium, nickel and zirconium
Brazing treatment and processing
Gas nitrocarburizing / oxynitriding treatment
treatment and processing
Bright Treatment Line
Available Services
Oxynitriding treatment
Low polluting, eco-friendly technology that enables a part to receive nitriding treatment simply by adding ammonia gas and a small amount of oxygen (air) into the furnace.
Oxidized membrane treatment
Produces a thin oxidized membrane of Fe3O4 on the surface of the part, which enhances abrasion resistance and corrosion resistance. In addition to individual treatment, part qualities can also be further enhanced by combining this treatment with gas nitrocarburizing or oxynitriding treatments.
Aluminum / Bright Line Facilities
Aluminum Alloy Heat Treatment Line Processing Facilities
| Equipment No | Name | Manufacturer | Usable Inner Dimensions of Furnace | Maximum Part Weight for Treatment | Maximum Operating Temperature |
| --- | --- | --- | --- | --- | --- |
| PT-7 | Pit-type hot air circulation electric furnace (solution heat treatment furnace) | Mochizuki Nekki Kogyo | 1,500φ×2,100H | 1,500kg | 600℃ |
| PT-9 | Pit-type hot air circulation electric furnace(時効炉) | Mochizuki Nekki Kogyo | 1,500φ×2,100H | 1,500kg | 600℃ |
| PT-11 | Pit-type hot air circulation electric furnace(時効炉) | Mochizuki Nekki Kogyo | 2050φ×2,200H | 2,000kg | 600℃ |
| PT-12 | Pit-type hot air circulation electric furnace(solution heat treatment furnace) | Mochizuki Nekki Kogyo | 1,800φ×3,000H | 2,000kg | 600℃ |
| PT-13 | Pit-type hot air circulation electric furnace(solution heat treatment furnace) | Mochizuki Nekki Kogyo | 2100φ×2,200H | 2,000kg | 600℃ |
| PT-14 | Pit-type hot air circulation electric furnace(solution heat treatment furnace) | Mochizuki Nekki Kogyo | 1,800φ×3,500H | 2,000kg | 600℃ |
| PT-15 | Pit-type hot air circulation electric furnace(時効炉) | Mochizuki Nekki Kogyo | 1,800φ×3,000H | 2,000kg | 600℃ |
| PT-16 | Pit-type hot air circulation electric furnace(時効炉) | Mochizuki Nekki Kogyo | 1,800φ×3,500H | 2,000kg | 600℃ |
Bright Treatment Line Processing Facilities
Equipment No.
Name
Manufacturer
Usable Inner Dimensions of Furnace
Maximum Part Weight for Treatment
Maximum Operating Temperature
PT-18
Non-oxidation annealing furnace (hot air tempering furnace)
Oriental Engineering
700φ×1,200H
800kg
750℃
PV-1
Gas atmosphere bright annealing furnace
Mochizuki Nekki Kogyo
850φ×1,200H
800kg
950℃
PV-2
Gas atmosphere bright annealing furnace
Mochizuki Nekki Kogyo
1,000φ×1,200H
1,000kg
900℃
PV-3
Gas atmosphere bright annealing furnace
Mochizuki Nekki Kogyo
900φ×1,000H
1,000kg
900℃
PV-4
Gas atmosphere bright annealing furnace
Shinei Netsu Kogyo
12,00φ×2,400H
3,000kg
900℃
PV-5
Gas atmosphere bright annealing furnace
Mochizuki Nekki Kogyo
1,400φ×1,600H
6,500kg
930℃
PNT-1
Pit-type nitriding furnace
Control equipment: Nippon S.T. Johnson Sales
Furnace: Mochizuki Nekki Kogyo
850φ×1,200H
1,000kg
750℃
PN-2
Gas oxynitriding and nitrocarburizing furnace
Mochizuki Nekki Kogyo
1,000φ×1,000H
800kg
750℃
PN-3
Gas oxynitriding and nitrocarburizing furnace
Mochizuki Nekki Kogyo
900φ×1,000H
500kg
900℃
Atmosphere heat treatment and processing facility (hydrogen atmosphere annealing furnace)
| Equipment No. | Name | Manufacturer | Retort dimensions | Atmosphere | Maximum Operating Temperature |
| --- | --- | --- | --- | --- | --- |
| H-1 | Horizontal atmosphere furnace | Mochizuki Nekki Kogyo | 206φ×1,500L | N2H2 | 950℃ |
Other Facilities
| | | | | |
| --- | --- | --- | --- | --- |
| Fl-1 | Other Facilities | Nippon Thermonics | Output 30kW | 200kHz |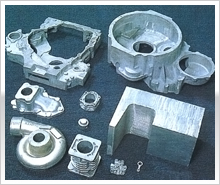 Aluminum part processed by heat treatment
Aluminum heat treatment furnace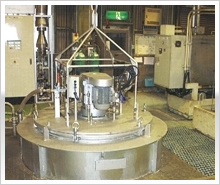 Pit-type nitriding furnace