Core Production Strengths
The ONEX Group consists of ONEX Corporation, two consolidated subsidiaries, ONEX Line Corporation and ONEX Tech Center Corporation, as well as equity method affiliate Shohei Co., Ltd. The Group's business portfolio includes the metal heat treatment and processing business as well as the forwarding business.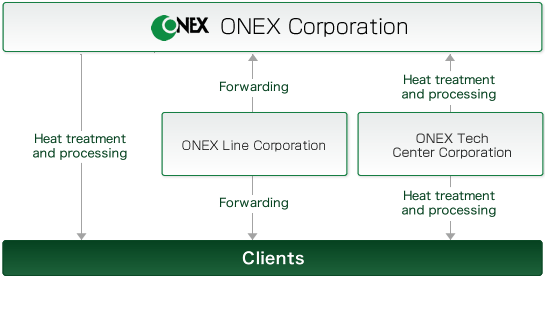 Service Areas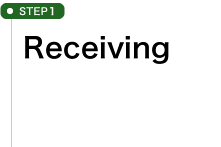 First, we receive the part from the customer and select a heat treatment method ideal for the job. Next, we issue processing and inspection orders to the production operations, production management and quality management departments.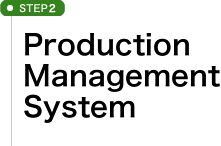 We employ a computerized production management system created by ONEX Engineeringthat manages every process, from receiving to shipment, in order to enhance workflow efficiencies. We also use a point of production (POP) system under the goal to promote the concept of Mieruka (visualization) on the production site.
During this stage, we also schedule the shipment of the treated and processed part.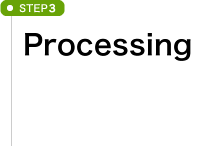 After the part is received, processes involved in all phases from pre-treatment including cleaning and anti-carburization to heat treatment and post-processing are executed according to work orders. The POP system is used to amass data on work process implementation and completion.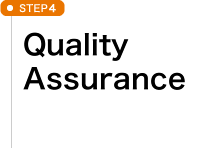 A strict inspection is performed using our quality control system on parts that have undergone heat treatment and processing to check whether they retain the required properties. An inspection report is then issued as a verification of quality assurance.
Finally, a vehicle dispatch plan is prepared based on the shipment schedule issued from the Production Management Department.
Prior to loading, a visual pre-shipment inspection is undertaken on the parts to ensure the customer's needs are met.
Forwarding services are provided by ONEX Lineor by a partner logistics provider.